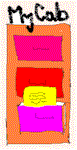 PDO Overview
Personal Document Organizer is a useful tool for anyone in an office, college, or at home. It provides a simple cabinet and folder paradigm for catalog information with a name, description and keywords. Information could be a note, any item of interest in an office or home, paper documents, reminders and to-do items, links to web pages, and electronic files and documents stored on a computers hard disk, a mapped drive on a LAN or web, or, on removable media such as floppies, zip media, CD-ROM's.

Personal Document Organizer provides search capability to locate any information by name, date, keyword or description. Advanced search allow Boolean search, like all files cataloged by a specific keyword and between a date range. All types of cataloged information can be searched and accessed.

Personal Document Organizer provides basic document and storage management capabilities at a fraction of the cost of other traditional document and storage management solutions. Personal Document Organizer is independent of any attached peripheral device. Any attached scanner can be used to scan in paper documents and convert them to electronic, photographs from any digital camera stored on a computer can be cataloged and managed, and any storage device like CD-ROM's, Zip drives or networked drives can be used for cataloging, archiving, migrating or publishing.
Personal Document Organizer's archive and migrate features provide a capability of maintaining multiple versions of an electronic file on offline media. The migrate feature provides for storage management, where an electronic file is moved from its original location to offline storage, thus freeing up hard disk space for documents. Any version of an electronic file can be restored to its original location using the Restore feature.

Personal Document Organizer provides publishing of any and all items on alternate media. For instance, publishing your favorite photographs will create a new catalog with copies all the selected photographs, their keywords and descriptions. The published set can be distributed and viewed as a new catalog by Personal Document Organizer Standard, Personal Document Organizer Lite or Personal Document Organizer Basic.

Personal Document Organizer provides the ability to catalog any item in your home or office. This feature can be used to maintain an inventory of items and their disposition.

Personal Document Organizer provides the ability to catalog Notes, Reminders and To Do items. For instance, add all birthdays and anniversaries to reminders, or add estimated tax filing dates to To Do's, or use Notes to keep track of a telephone conversation with a customer service representative, a vendor or contractor for a service, etc.

Personal Document Organizer provides an annotation capability which can be used to add additional information to any cataloged item. Any number of annotations can be added to a cataloged item. For instance use annotations to a birthday reminder to track gifts already given and suggestion for gifts in the future.



download pdo

buy pdo now

brochure







Version 3.6.1068 of PDO Standard and Lite released, 1/9/06
Version 3.4.992 of PDO Standard released, 8/23/05.
For student, academic and non-profit institution discounts contact sales.
Version 3.00 of PDO Standard released, 10/28/04.
Version 2.55 of PDO Standard released, 5/6/04.
Version 2.5 of PDO Standard released, 3/15/04.
Version 2.1 of PDO standard released, 7/12/03
Active Disk PDO released, 4/20/03
Active Disk PDOview version of Iomega Active Disk released, 4/8/03
Version 1.32 of Personal Document Organizer released. New features include compression and auto creation of folders to map explorer heirarchy, 3/16/03.
Insoft releases Personal Document Organizer version 1.2, with drag and drop support.


Insoft introduces PDO, an easy to use software, to organize, manage and locate documents, electronic files, digital photographs, email messages, reminders, to-do, notes, links to web resources, and other important information.
The software is available free for thirty day trial. After the trial period the software can still be used to manage notes, reminders, paper documents, miscellaneous items etc.