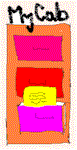 PDO Features
Cataloging and organization electronic files, documents, digital photographs, web pages, email messages, and other information in cabinets and folders.
Searching for any cataloged item, by keywords, description, dates, name or a combination of these criteria.
Opening an electronic file launches the application associated with the file or a web browser to view the web page.
Prompting to mount the correct floppy, CD ROM, SuperDisk, Zip or Jaz disk if the file is on removable media. The removable media is identified by media label and volume name.
Support for multiple versions of the same file on alternate media.
Freeing hard disk space by migrating infrequently used files to removable media, or securing sensitive files and documents to removable media.
Archiving files by copying them to removable media for backup.
Compress and/or encrypt files in place, or on archiving and migrating files to another media.
Restoring any file from removable media to hard disk whether migrated or archived to alternate media.
Publishing a set of files along with a catalog. This set can be used for distribution or for taking needed files on a trip.
Scanning a directory for new files to be registered and catalogued.
Creating a backup copy of the catalog.
Create Notes to keep track of anything of interest.
Reminders and To Do items. They can be set to activate daily, weekly, monthly, quarterly or annually.
Active Reminders and To Do items are displayed in the status bar.
Annotate any cataloged item to maintain a log or additional information. No limits on the number of annotations per item.
Password security of the catalog.
Multiple report formats of selected items in a catalog. Reports can be printed or saved as files.
Create work folders, queues and lists of catalogued items by referencing registered items.
Create associations between items, for instance any number of documents, notes etc. could be associated with a reminder or a to-do.
Typical uses
As a document manager and organizer.
As a tool for research, creating folders for topics of interest and creating documents, notes, or registering links to internet resources.
As a cataloguer of documents and files on both fixed, removable and networked drives. Accessing a document on a un-mounted removable media, prompt you to mount the correct media.
As an electronic file cabinet for paper documents.
As an archiving or publishing tool for archival of obsolete or older documents, files and notes. For instance at the end of a financial or calendar year, you can migrate or archive all files relevant for that year, or, a client folder when a client is no longer active.
As a publisher to publish and distribute relevant documents or files to colleagues, friends or family, or to take on a trip.
Share files and other information in a workgroup using a database on a shared drive.
Track conversations with customers, customer service representatives, clients, etc.
Organize and create work centric folders of required documents, notes, reminders and to-dos etc.
As a basic inventory tracker in an office or a home. Use annotations to create a log or history with any item.
System Requirements
CPU Intel 486 or higher
10 MB hard disk space
Windows 95, 98, 2000, NT, and XP


download pdo

buy pdo now

brochure







Version 3.6.1068 of PDO Standard and Lite released, 1/9/06
Version 3.4.992 of PDO Standard released, 8/23/05.
For student, academic and non-profit institution discounts contact sales.
Version 3.00 of PDO Standard released, 10/28/04.
Version 2.55 of PDO Standard released, 5/6/04.
Version 2.5 of PDO Standard released, 3/15/04.
Version 2.1 of PDO standard released, 7/12/03
Active Disk PDO released, 4/20/03
Active Disk PDOview version of Iomega Active Disk released, 4/8/03
Version 1.32 of Personal Document Organizer released. New features include compression and auto creation of folders to map explorer heirarchy, 3/16/03.
Insoft releases Personal Document Organizer version 1.2, with drag and drop support.


Insoft introduces PDO, an easy to use software, to organize, manage and locate documents, electronic files, digital photographs, email messages, reminders, to-do, notes, links to web resources, and other important information.
The software is available free for thirty day trial. After the trial period the software can still be used to manage notes, reminders, paper documents, miscellaneous items etc.