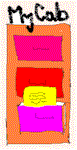 Welcome...
PDO - Easily organize, locate and annotate documents, files, email, photographs, notes, reminders, to do's, etc.
PDO a Personal Document Organizer, provides easy to use Document Management and Storage Management capabilities to a PC user. In addition to managing electronic documents and files, such as email messages, digital photographs, office documents, links to web resources, the Personal Document Organizer provides catalog and search capabilities for paper documents and any other item in a home or office. You can create notes (recipes, reviews, conversation logs), reminders (birthdays, anniversaries, doctor appointments, project dues), to do items and annotate them for maintaining a log in the Personal Document Organizer. The Personal Document Organizer is a valuable tool for any home, office, or college student and is available for a fraction of the cost of other document/storage management solutions.
eXMiLL - WYSIWYG Structured Document software for electronic forms, creating XML content, XML DTD and XML Schema.
eXMill a Structured Document Template Designer and Content Editor provides capabilities to design and edit structured documents. The Designer creates a generic template of a document. The editor provides capabilities to create specific content based on a document template. Contents can be saved as an XML document with embedded DTD or in a proprietary record format. The editor can also be used to generate an XML DTD/Schema for the document template. The Structured Document Template Designer is useful for designing Electronic Forms and the Content Editor can be used to fill Electronic Forms according to the rules defined in the Template.


Version 3.6.1068 of PDO Standard and Lite released, 1/9/06
Version 3.4.992 of PDO Standard released, 8/23/05.
For student, academic and non-profit institution discounts contact sales.
Version 3.00 of PDO Standard released, 10/28/04.
Version 2.55 of PDO Standard released, 5/6/04.
Version 2.5 of PDO Standard released, 3/15/04.
Version 2.1 of PDO standard released, 7/12/03
Active Disk PDO released, 4/20/03
Active Disk PDOview version of Iomega Active Disk released, 4/8/03
Version 1.32 of Personal Document Organizer released. New features include compression and auto creation of folders to map explorer heirarchy, 3/16/03.
Insoft releases Personal Document Organizer version 1.2, with drag and drop support.


Insoft introduces PDO, an easy to use software, to organize, manage and locate documents, electronic files, digital photographs, email messages, reminders, to-do, notes, links to web resources, and other important information.
The software is available free for thirty day trial. After the trial period the software can still be used to manage notes, reminders, paper documents, miscellaneous items etc.